Course layout
Hole 2
:
Denial Bay
Par 4 - 370m
At Ceduna Golf Club
Tee: William McKenzie
Denial Bay was the first settlement and port in the area; the town of Ceduna and the Port of Thevenard developed from the foundations set down at Denial Bay. A notable pioneer of the district was William McKenzie 1844–1906.
He was one of the first to settle in the area in 1880 and had many jobs in the community which he did with the same dedication and enthusiasm, some of which included blacksmith, builder and harbour master.
He assisted many new settlers in establishing properties with lots of advice and in many cases chip in with some physical labour.
William was the first in the District to desalinate water from the sea for stock use. Many of the pioneers followed his example and prospered.
His slogan was "You can't grow wheat with hands in your pockets."
William certainly was a hard working pioneer.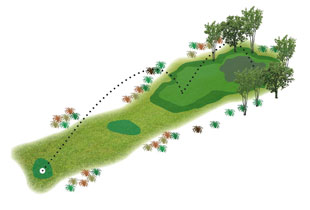 ---
Tourism links