Course layout
Hole 5
:
Dingo's Den
Par 5 - 538m
At Nullarbor Motel
Tee: Coral & Scobie Beattie
In 1947 Coral and Elwyn Beattie moved from Penong to Nullarbor Station as station hands and life was very tough. They built an extension onto the existing timber and iron building, using stone and cement, old dingo traps and pieces of scrap iron to reinforce and strengthen it.
In 1954 they were appointed managers of the Nullarbor Station. Shortly after they decided to set up a shop and sell petrol, food and water. The petrol came in 44-gallon drums, transported from Fowlers Bay. The petrol was hand pumped into a gallon measure then poured into vehicles. They also sold tinned food, cigarettes, biscuits, lollies and crystal cordial drinks.
The Beatties left Nullarbor in 1960 after starting the ongoing business of Nullarbor Roadhouse, which of course continues today.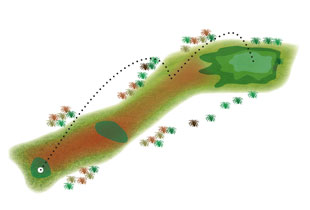 ---
Tourism links