Course layout
Hole 11
:
90 Mile Straight
Par 4 - 310m
At Caiguna Motel
Caiguna is said to be derived from an aboriginal word meaning "spear track".
At the roadhouse begins the most famous stretch of road in Australia, 90 miles of road - not one bend.
South of the town is Nuytsland Nature Reserve, a pretty area bounded by sheer cliffs fronting the Southern Ocean.
For trivia buffs, the Caiguna Roadhouse was built to assist traffic crossing for the Commonwealth Games in Perth.
Tee: Edward John Eyre & John Baxter
Explorer Eyre headed an expedition from Adelaide to Albany with his companion friend Baxter, and 3 teenaged Aboriginal guides Wylie, Joey & Yarrie. Leaving Fowlers Bay 25 November 1841 with pack horses and supplies embarked on a journey of over 1000 miles to King George's Sound.
They encountered harsh condition and Summer with gruelling consequences. South of here, Baxter was shot and 2 Aborigine guides ran off with supplies and guns, leaving Eyre only with Wylie. Eyre and Wylie continued on, and after support from a French Whaling Ship off Cape Arid rested up, then completed his expedition to King George's Sound on 6 July 1841 arrived.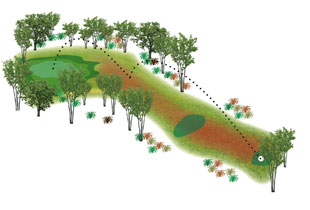 ---
Tourism links