Course layout
Hole 14
:
Ngadju
Par 4 - 354m
At Norseman Golf Club
You are now standing on Ngadju ground and the Ngadju people are the traditional owners of the land.
The lake you see in the foreground is called Warrarnbunna meaning the place of the long ground. The eucalypt forest around us is the largest woodland forest on the earth and called the Great Western Woodland. Let us all enjoy and protect.
Tee: Mort Harslett
This tee commemorates one of Norseman's true pioneers, Mort Harslett, who lived his whole life here.
Mort worked on the mines, provided services to the State School as caretaker/cleaner and was a founding member of the Historical Museum, but is mostly remembered for the many years of operating a mail delivery in the early days to properties out on the Nullarbor in his trusty old truck.
He told fascinating yarns of the early years and had a wealth of knowledge relating to the history of the Dundas Shire.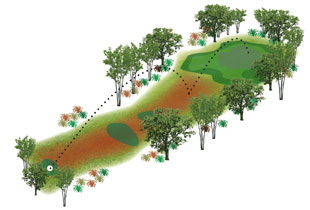 ---
Tourism links