Course layout
Hole 17
:
Golden Mile
Par 4 - 339m
At Kalgoorlie Golf Club
The discovery of gold by Paddy Hannan in 1893 led to one of Australia's great gold rushes.
Since then Kalgoorlie-Boulder has developed into a major service hub for Western Australia's active resource industry. Dominated by magnificent historic architecture, Hannan and Burt Streets provide a focus for modern cafes, restaurants and accommodation, hotels, clubs and watering holes.
The huge KCGM Super Pit stretches along the eastern flank of the twin City, pointing north toward the Australian Prospectors and Miners Hall of Fame - a showcase of the mining industry.
Surrounded by beautiful forest, the golden City boasts colourful characters and culture, world class sporting and indoor swimming facilities, traditional two-up games, and the famous Race Round.
Tee: Bob Bongiorno
The idea for the Nullarbor Links concept was born out of the need to change how travellers perceived the Eyre Highway. The majority of people crossing the Nullarbor had a race track mentality.
Bob Bongiorno saw Nullarbor Links as a way to slow people down and make the crossing part of the holiday and not something to be endured and traversed as quickly as possible.
His aim was to create awareness of many of the "self find" attractions and stories on the Nullarbor. This Golf Course is not only a game but also an interpretative journey with holes and Tees named after significant geological features or significant events or people in history.
Bob Bongiorno is father of Nullarbor Links and this tee is dedicated to his vision.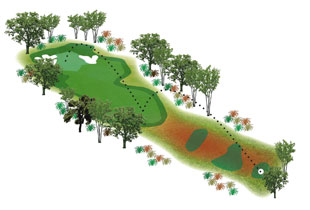 ---
Tourism links