Course layout
Hole 3
:
Windmills
Par 4 - 260m
At Penong Golf Course
Water has always been problem for Penong.
The picturesque massing of windmills on the eastern entry to Penong, locally known as 'Windmill Flat', has developed over many years in order for the town to access one of the small underground basins that is close to the township.
Each household obtains their water supply using their own windmill and the abundant winds to pump from the underground basins to their homes. The supplies were also used for water supplies for stock.
The water supply for the Penong Township is now also carted by road tanker from Ceduna to top up local supplies at a cost to consumers and subsidised by the South Australian Government.
There are 26 windmills on windmill flat. The residents of Penong and districts still rely on rainfall as their main source of water.
Just south of Penong, you'll find the highly acclaimed Cactus Beach, where surfers from all over Australia and overseas can be found year-round.
Tee: Pioneer Drive
In the 1860s a number of pastoral leases were issued in the Penong area. Around the 1890s these leases were resumed by the Government and the land was surveyed into hundreds. Penong is in the hundred of Burgoyne which was proclaimed in the Government Gazette in April 1892. The name Penong is believed to mean "Rock Hole".
Many pioneers of the Penong district took up land in the 1890s. Those early families are recognised in the naming of town streets and also in Pioneer Park.
Early pioneers included the Murray, Saunders, Edwards, Oats, Shipard, Weber, Leopold and the Sleep families. The land they came to was virgin scrub, local stone was used to construct their homes.
Life was very hard for these early pioneers, making do with nothing and showing their resourcefulness.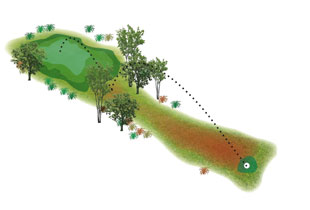 ---
Tourism links