Course layout
Hole 13
:
Golden Horse
Par 4 - 436m
At Norseman Golf Club
Tee: Laurie Sinclair
Gold mining in the Norseman area began with the chance discovery of gold at nearby Lake Dundas in 1892. A gold rush soon began. Today however the original Dundas fields now lie abandoned.
According to local legend the town of Norseman was named after a horse. It is said that in 1894 a horse named Hardy Norseman was tethered to a tree for the night by its owner, Laurie Sinclair. Upon returning to his horse Sinclair had the good fortune to discover that Norseman had unearthed a gold nugget.
Since then a statue has been erected in honour of Norseman. Today Gold Mining continues to be a major activity with reports that the Norseman fields have produced over 5 million ounces of the precious yellow metal.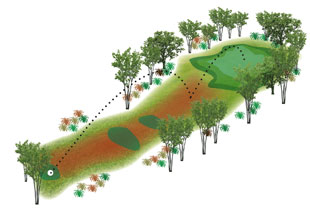 ---
Tourism links