Course layout
Hole 13
:
Sheep's Back
Par 3 - 141m
At Fraser Range
The Fraser Range area is home to the world's largest Eucalyptus Hardwood Forest. The blackbutt, salmon gum and gimlet trees are a spectacular sight, often 20 to 30 metres tall, they attract an amazing collection of wildlife to the region.
The Fraser Range Station was first settled in 1872, making the station the first to be founded in the Nullabor Plain area. The station is comprised of vast open grass flats, upon which the shepherds moved sheep over 100 years ago. The shepherds moved their herds from flat to flat before returning to the Fraser Range homestead for shearing annually.
The station allows the international vistor to understand the old Australian saying "living off a sheep's back".
Tee: John and Heather Cambell
John Campbell and his wife Heather were pastoralists on Fraser Range for 11 years.
John died in a light aircraft accident while mustering sheep south of the main homestead in November 2000.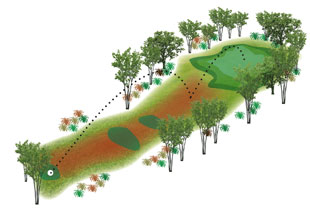 ---
Tourism links