Course layout
Hole 6
:
Border Kangaroo
Par 3 - 160m
At Border Village
Situated just 50 metres east of the Western Australian Agricultural checkpoint, Border Village acts very much as a gateway to both South Australia and Western Australia. Nullarbor travellers will appreciate a short stop at Border Village. The villiage is famous for range of wild life especially the Australian Emblem the Kangaroo.
Tee: Don Harrington
Don Harrington headed up a syndicate that purchased W.A./S.A.Border Village in 1987. His involvement and commitment has seen many changes and improvement to facilities.
After a disaster in 2000, when Border Village was burnt to the ground, Don's efforts and commitment were instrumental in the design, rebuild and rebirth of the Roadhouse. Don's contribution also extends to organising and running the annual Border Dash. The dash as he fondly calls it, is a fund raising event which raises money for local charities. Don's love affair with the dash began in 1987 and continues today.
His commitment to the Eyre Highway is significant, and is the current Chairman of the Eyre Highway Operators Association. The Association that has developed and owns the Nullarbor Links. The world's longest golf course.
Don's contribution to the construction of the Course has been both important and vital to its completion.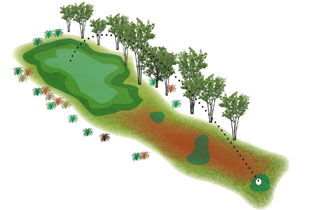 ---
Tourism links